The Best 7 Keto Products-
Introduction:
Do you know, the ketogenic diet has now been adopted by many youngsters in their daily routine, which leads to growing in the range of various keto products in the market. 
Basically, Keto products are generally low in carbohydrates that is they are low -carb and high in fat, food items like olive oil, grass-fed butter, pasture-raised eggs, raw cacao nibs, unsweetened coconut milk are included in Keto products. 
Many Keto products are generally flavored with natural flavorings and non-nutritive sweeteners, such as stevia and erythritol.  
So, if you are also in your keto diet & become confused while choosing the best keto product for you, then don't worry as here are the list of the best keto product. 
Read Also-What to eat before workout on a keto diet?
The best keto diet products which you will enjoy eating are:
(Best Keto Products)
1.
SlimFast Keto Fat Bomb Snacks:
The SlimFast Keto Fat Bomb Snack Cups are the perfect diet friendly snack for you. It's each snack cup has 8g of Fat which will maintain your Keto status and will keep you full for hours. 
It has a 2g of net carbs & 0g added sugar with layers of rich & creamy peanut butter coated in indulgent chocolate for satisfying your sugar cravings.  
This is also free from Gluten, Artificial sweeteners & Artificial flavors colors. This product comes with 14 conveniently packaged cups in each box, the Fat Bombs are perfect for on the go snacking while dieting.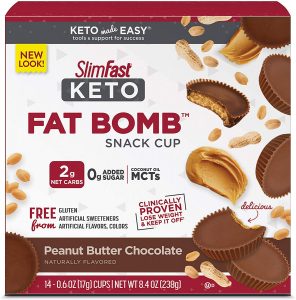 It comes in various mouthwatering flavors:  
Peanut Butter Chocolate.

 

Caramel Nuts & Chocolate.

 

Mint Chocolate.

 

Coconut cream Dark Chocolate.

 

Iced lemon Drop.

 

Caramel Chocolate.

 
2. Livlo Keto Brownie Baking Mix:
Livlo Mix is delicious, quick & easy to make. With Livlo's keto brownie mix, you can make your low carbs delicious brownies. 
Whether you're on a low carb ketogenic, diabetic, paleo, LCHF, or Atkins diet, this brownie mix is a perfect keto snack for you this will also satisfy your chocolate cravings without taking any calories.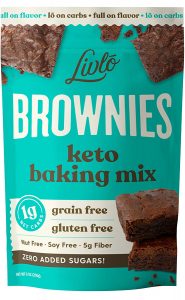 Livlo's chocolate brownies are full of healthy fiber & is sugar free, gluten free, grain free, nut free, IMO free, soy free. With its ingredients you can end or start your day feeling great about your food choices & healthy treats. 
Livlo comes with 3 types of mixes: 
Bread mix.

 

Biscuit mix.

 

Brownie mix.

 
You can also make your own recipe with this, like you bake this with sugar free chocolate chips, nuts, cream cheese, nut butters or topping with keto ice cream is always a good idea. 
Also Check – House of the Dragon Episode 1 review – The Heirs of the Dragon
3. Flock Chicken Skin Chips:
Flock has a super tasty & crispy chicken chips. This is made from 100% real chicken, are low in carbs & high in protein. 
This comes with a pack of 8 chips & each chip is having 0g sugar, 13g protein & 0g carbs.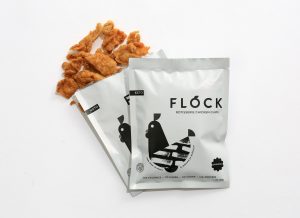 They have a variety of product range of Chicken chips, such as: 
Cajun:

This contains 0g's of sugar, 13g protein & 1g carbs.

 

Hattie Bs:

This has 190 calories, 13g protein & 1g's of carbs.

 

Honey Sriracha:

This has 13g's of protein, less than 1g of sugar & 1g carbs.

 

Hot & Spicy:

 This has a bundle of 3 products each having 13g's of protein, 1g carbs & less than 1g of sugar.

 
Flocks have started selling a new variety of chips: 
Biltong:

This comes with 32g protein, 0g sugar & 0g carbs.

 

Original Bacon Jerky:

This has 21g protein, 0g sugar & 0g carbs.

 

Pork Panko Bread Crumbs:

This has 15g protein & is carb free.       

 
The wide variety of Flocks is the ultimate answer to your healthy & keto snacking needs. 
4. Fat Snax Crackers:
With Fat's new Almond flour keto crackers, you can enjoy your evenings. Fat has a product made with Rosemary olive oil, which is a perfect balance of low-carb & sophistication.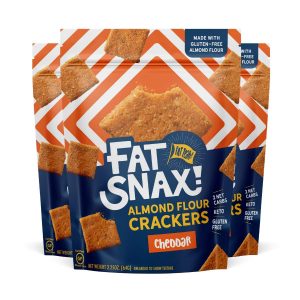 The Fat Snax Crackers have:   
Keto friendly ingredients such as almond flour, butter, coconut flour & nuts.

 

This is low in carb that is 2-3 net carbs per serving.

 

It is gluten free.

 

It is also soy & grain free as it only has almond & coconut flour.

 

There are no preservatives is used only natural ingredients.

 

Each cracker has 11g's of fat.

 
This Snax cracker comes in classic cracker flavors like Cheddar, sea salt, and "everything" seasoning. 
5. Kalahari Crisps Air-Dried Beef Chips:
Kalahari Air-Dried beef Chips are Crispy, crunchy & high in protein. It's Kalahari the keto meat snack.
All of this chip's has 20g's of Protein and 0g's of sugar. This no sugar with the high protein snack that will satisfy all your crunchy needs.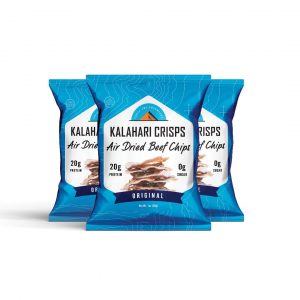 Kalahari Air-Dried Beef Chips come in 3 flavors: 
Original.

 

Rosemary Citrus.

 

Southwest Verde.

 
Unlike many beef jerkies, there is no added sugar & less than 1 gram of carbs in an entire bag of 28 grams. These are also free from preservatives and additives. 
6. Hungry Buddha Keto Bars:
Hungry Buddha Keto Bars are a healthy post-workout treat which you can give to yourself. You can also make these bars part of your mid-day snacks, mid-night cravings & any time a healthy bite. 
These Bars is:
Full of protein that is 10g's of pea protein in one bar.

 

Gluten free, no use of palm oil, artificial sweeteners & soy.

 

Made with MCT oil means healthy fats & sustained energy.

 
As these bars are plant-based hence will provide you 9 grams of protein, 11 grams of healthy fat & just 4 grams of net carbs per bar (40 grams).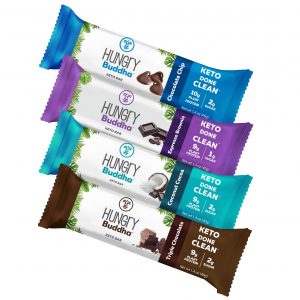 These bars come in many varieties as: 
Chocolate Chip Snack bar.

 

Triple Chocolate Snack Bar.

 

Coconut Cocoa Snack Bar.

 

Espresso Brownie Snack Bar.

 

Lemon Blueberry Snack Bar.

 

Mint Chip Snack bar.

 
You can also include these bars in your keto diet, these will make your diet tasty & healthy.
7. Good To Go Soft-Baked Keto Bars:
The good To Go Soft-Backed Keto Bars is the first keto product certified by Paleo foundation.
These Keto bars are super tasty & its cake-like soft baked bars having less than 2g's of sugar and it also has a whopping 12 g's of plant-based fat. 
These bars are delicious & nutritious snacks, but always keep in check your blood sugar levels, if you choose to include these bars in your keto diet.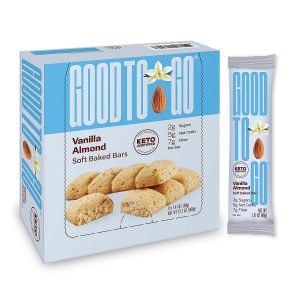 They come in a variety of flavors like: 
Cocoa Coconut.

 

Vanilla Almond.

 

Raspberry Lemon.

 

Cinnamon Pecan.

 

Strawberry Macadamia.

 

Double Chocolate.

 

Chocolate Mint.

 

Blueberry Cashew.

 
These keto bars are delicious in taste & has a cookie like texture. 
READ MORE-
7 Best Keto Protein Powder | The Best 7 Low Carb Protein Powder